Sales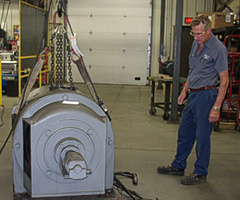 We have pickup and delivery, 24/7 emergency service availability, a highly skilled technical staff and three repair facilities that support all listed services.
If you don't see it listed, please call. We are known for our capability to meet our clients needs.
WW Sales takes place on all levels. We are under contract with large companies for preventive maintenance, small shops for single component repair.
The list of products changes frequently, check back often or call Sales for more information on your need. We offer free pickup and delivery.
[email protected]
920.922.9200, toll free 800.499.9222
Types of Sales Support Available
Our sales team is highly skilled in assessing and providing solid answers to need and skillfully working between you the customer and our technical staff for making sure you get the results you need.
Our experience has provided solutions that exceed customer expectation. As an example, we can redesign and rewind motors to different voltage, horsepower, and RPM, extending the life and value of equipment and your investment in that equipment.

Products We Sell
| | |
| --- | --- |
| AC/ DC Electric Motors | Line Reactors |
| AC/DC Motor Controls | Metric Motors |
| AC/DC Variable Speed Motors | Motor Bases |
| Braking Resistors | Motor Controls |
| Capacitors | Motorized Pulleys |
| Carbon Brushes | Phase Converters |
| Current & Voltage Monitors | Pulleys/V-Belts |
| Drive Filters | Pumps |
| Electric Tools | Radiant Heaters |
| Electronic Brakes | Reducers |
| Gear Motor Reducers | Soft Start Controls |
| Generators | Stainless Motors |
| Grinders | Transformers |
| Industrial Bench | Ventilating Equipment |