Welder Repair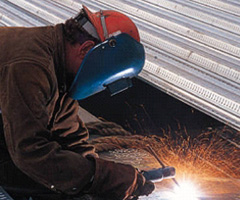 We have free pickup and delivery, 24/7 emergency service availability, a highly skilled technical staff and three repair facilities that support all listed services.
Several years ago we saw the need to provide quality repair service and sales for welding equipment in our existing customer base. As word got out of our quality service, customer need found us! We've increased significantly our technical capabilities and factory certifications.
Please contact Sales and Service for your specific need. Visit the Sales page for additional information.
[email protected]
920.922.9200, toll free 800.499.9222
In-Field and In-House Services
AC/DC Power Supplies
Automatic Welding Equipment
Diesel and Gas Drives
Engine Driven Units
Mig (GNAW)
Stick (SWAM)
Welder Parts
LINCOLN
MILLER
ESAB
SOLAR
CENTURY
THERMAL ARC
THERMAL DYNAMICS
SNAP ON
NAPA
HOBART
POW CON
CAMPBELL HAUSFELD
HYPERTHERM
LINCOLN WELDERS
Engine Drives
Inverters
Plasma Cutters
Welders
Wire feeders
MILLER WELDERS
Engine Drives
Inverters
Plasma Cutters
Welders
Wire feeders
MEDAR WELDERS
Hand held DEP 100's
Legend 5700
Micro 80
Medweld 1000
Medweld 3005/500s/950

WELTRONIC WELDERS
Decade 5
U 60
WT-2000
WT-900
ROBOTRON WELDERS
S100
S105
S110
S115
S400
SQUARE D WELDERS
C1600
C1700
EQ 5100
EQ 5200
EQ 5300
Tig (GTAW)
Plasma Cutters
Portable
Semi-Automatic Welding Equipment
Spot Welders
Wire Feeds
.
BOSCH WELDERS
PSP 5000
UD 2
DENGENSHA WELDERS
Decomstar 21
Decomstar 30
Decomstar 70
PERTRON WELDERS
DEP 3000
Tim 2000/4000/5000
System 80
Inverters
Welders
** Not Listed? Please call. Updates are not always on the website fast enough!