About W.W. Electric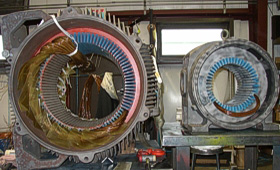 We have pickup and delivery, 24/7 emergency service availability, a highly skilled technical staff and three repair facilities that support all listed services.
Please contact Sales and Service for your specific need. We offer free pickup and delivery.
[email protected]
920.922.9200, toll free 800.499.9222
Company History
This company will serve your every need . . . with dedication and family values.
We are one of the largest service and distribution facilities in Wisconsin for electric motors and industrial controls. We have been in business since 1948 and are on our fifth generation. The business is owned and operated by Keith, Jeff and Steve Wojahn. Three locations provide wide area coverage for your needs in service and sales. The Oshkosh location provides sales, service and is our corporate headquarters welder repair facility and main warehouse. Fond du Lac is our main mechanical service facility and machine shop and is EASA accredited. Waupun is a full service facility and sales office. We are a member of the Electrical Apparatus Service Assn. (E.A.S.A.)
W & W Electric, Inc, began in 1947, when Carl H. Wojahn was working at the Timken Oil Burner Plant; an addition to Wisconsin Axle. As a foreman and chief inspector Carl would inspect small motors and parts for oil burner units. The service manager at Speed Queen asked him to look at a damaged washing machine motor and he had it fixed the next day. He to get a few more motors, and so it continued until it got to be forty or fifty motors every few weeks. At first, Carl would use the kitchen stove to bake motors in, until he set an oven out in the garage. After the small motors were repaired, they were painted and sent back to Speed Queen. Soon he decided to leave the Axle and Oil Burner Plant. This was quite a decision to make because he would be leaving a supervisor job, give up his annuity, and leaving a secure job for a business of his own. It was in October of 1948 that Carl H. and Marilyn E. Wojahn went into business, and decided to call it W & W Electric Motor Service. From then on it has grown, and we now have three shops; in Fond du Lac, Waupun, and Oshkosh, Wisconsin. The name has changed a little bit and is now called W & W Electric Motors, Inc. While the name has changed, the values that this company started with stays the same.
The companies we represent
ABB

A.O. Smith-Century Electric

A.O. Smith-Universal Electric

A.O. Smith-Indiana General

Airmaster Fan

Baldor Motors & Gear Drive

Barnes/Crane Pumps

Bell & Gossett

Ben Shaw

Bison

Bodine

Brook Hansen

Dart Controls

Demag

Electra Gear

Elektrim

Elektro Drive Systems

Fasco

Fanuc




Franklin Electric

Future Products

General Electric

Gould's Pumps

Grove

KB Eectronics

Lenze

Leeson Electric

Lincoln Motors

Marathon Electric

Maurey Mfg.

Milwaukee Electric Tools

Motortronics

Nord Gear

Olsun Transformer

Pacific Scientific

Reuland Electric

Rol-Air Compressors

Schaefer Fan

SEW-Eurodrive

Siemens

Sterling Electric

Superior Electric

Symcom

TB Woods

Toshiba Electric

Trane

US Electric

Van Der Graaf

Warner

WEG

** If Not Listed Call **