Mechanical Appartus Repair and Refurbishing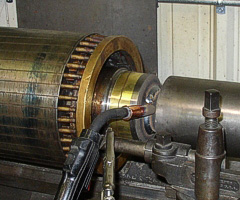 We have pickup and delivery, 24/7 emergency service availability, a highly skilled technical staff and three repair facilities that support all listed services.
Repair or refurbishment is guaranteed reliable, ready to go back into operations from the moment it leaves our shop.
Please contact Sales and Service for your specific need. Visit the Sales page for additional information. We offer free pickup and delivery.
[email protected]
920.922.9200, toll free 800.499.9222
Work to Factory Spec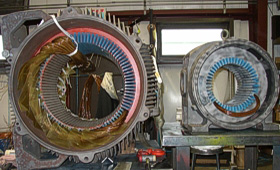 Factory specifications guide our work to guarantee every appartus repaired or refurbished operates as close to original specs and tolerances as possible.
Every repair is tested and assembled into a cleaned, refurbished housing and retested as a complete system.
The result is uncompromising quality in terms of tolerances, clearances, balance and operation.

AC Inverter Drives:
Programming
Replacing Varispeed Units
Replacing Eddy Current Clutches
Troubleshooting/Repair
Running Over Base Speed
Using for Servo Testing
Torque Control
Replacing DC Drives
Position Control-Vector Drives
Encoder/Tachometer - Feedback Systems
Using with Wound Rotor Motors
Process Controls:
PID Application and Tuning
Speed Controllers, Counters
Digital and Analog Displays
Encoders, Tachometers, Resolvers
Programmable Limit Switches
Servo's AC & DC:
Testing Feedback Systems
Troubleshooting and Testing
Tuning and Programming
Vector Drives
Velocity Controllers
Eddie Current Clutch Replacement
DC Drives:
Drives SCR & PWM (as above)
Replacing MG Sets
Electronics:
AC & DC Drive Repair
Control Cards
Gear Drives:
Sizing to Application
Retrofitting
Torque & Load Calculations
Motors:
Multi-Speed AC Re-Design 3 / 1 ph
Voltage-Pole-Frequency Re-Design 3 / 1ph
1ph to 3ph Conversion
3ph to 1ph Conversion
Concentric to Lap Conversion (windings)
Rename plating Motors
Wire Sizing - Motor Temp Rise
Motor Re-Rates - 60 to 50 hertz
Motor Reconnections - 60 to 50 hertz
Generators - 3ph to 1ph Conversion
DC Re-Design - Voltage, Speed, Etc...
Dynomometer Testing and Temp Rise
Design B-to-C-D Conversion
Calculating LR Currents PF, Etc...
Applying Electronic Switches to 1ph motors
Mechanical-Flange Adapters, Shaft Conversions, Fitting Tachs, Encoders, Brakes, Thermisters, Klixons, RTD's, etc.